Warning: The World Health Organisation reported that the number of people with diabetes has nearly quadrupled since the 1980's.
The report states that the number of diabetes sufferers had increased to 422 million in 2014 compared to 108 million cases in 1980. That is an increase of 314 million cases over 34 years. If this alarming rate, of over 9 million new cases of diabetes each year, is allowed to continue, the affect on society could be crippling.
The report also highlights some very disturbing facts;
8.5%

of adults worldwide has diabetes

1.5 million

people died as a result of diabetes in 2012

2.2 million

additional deaths were caused by higher-than-optimal blood glucose

43%

of these 3.7m people died before they were 70 years old
Dr Etienne Krug, a World Health Organisation official was interviewed by the BBC. This is what he had to say. "Diabetes is a silent disease, but it is on an unrelenting march that we need to stop. We can stop it, we know what needs to be done, but we cannot let it evolve like it does because it has a huge impact on people's health, on families and on society"
Dr Krung continued to express his concerns in the BBC interview about diabetes by adding "Today in most low income countries, people who have diabetes and need access to medicine and technology to manage it don't have access to it."
Looking at the statistics published by the World Health Organisation the question has to be asked. Given that poorer countries had such low levels of diabetes compared to the rest of the world back in the 1980's, and presumably had even less access to medication and technology back then, how did they manage to control the silent disease so well compared to the developed nations?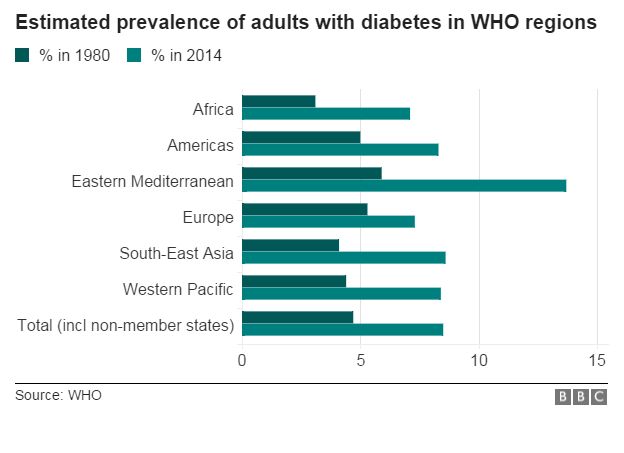 Diabetes is just one of many diseases Dr Joel Wallach has successfully treated for decades. His assistance has helped thousands of people to not only reduce but also reverse the symptoms of diabetes. Known as the Father of Liquid Minerals Dr Wallach had this to say about the so call silent disease; 'Diabetes is an epidemic disease' 'he says 'Adult onset type 2 diabetes is a simple mineral deficiency. We learned in 1957 that we could prevent and cure adult onset type 2 diabetes in pets and farm animals by supplementing properly with minerals…This was proven again in 1977 in human beings that these trace minerals and their cofactors could in fact support normal and healthy blood sugar levels'
Both Dr Krug and Dr Wallach, agree that diabetes is a disease that can be stopped. However, they have different views on how this can be done. In order to manage diabetes, the World Health Organisation report suggests administering insulin injections and other chemical medications. Dr Wallach recommends taking a protocol of naturally derived trace minerals and vitamins to reverse the symptoms and get rid of the disease. It is up to each person suffering with diabetes to choose which method they prefer to use.
At OVP Coaching, we are aware that you will no doubt know of people who suffer from diabetes. That is why we are asking you to share this information with them. Give them the chance to prolong their lives and make an educated decision.